By using the Ledger Nano X hardware wallet to store your Algorand Wallet private keys, your private keys now never even touch your phone. The transaction signing process is simple and secure, made even easier with the Ledger Nano X's bluetooth capabilities. 
In this document, I'll walk you through the end-to-end process of setting up your Nano X, pairing the Nano X with your Algorand Wallet, and finally, signing transactions with the Nano X's bluetooth capabilities.
Before you begin
The Algorand Wallet is Algorand's official mobile wallet that allows users to hold, transact, and request Algos or one of the hundreds of assets built on the Algorand blockchain. Within Algorand Wallet, you can access your various accounts along with their respective public and private keys. In order to continue with this tutorial, you must go through the following steps first:
Note: If you don't have a Nano X device, check out our previous post in this series of Algorand Wallet tutorials which will walk you through basic account creation.
Install the Algorand app via Ledger Live
Open Ledger Live on your phone. From the Portfolio screen, tap Open Manager.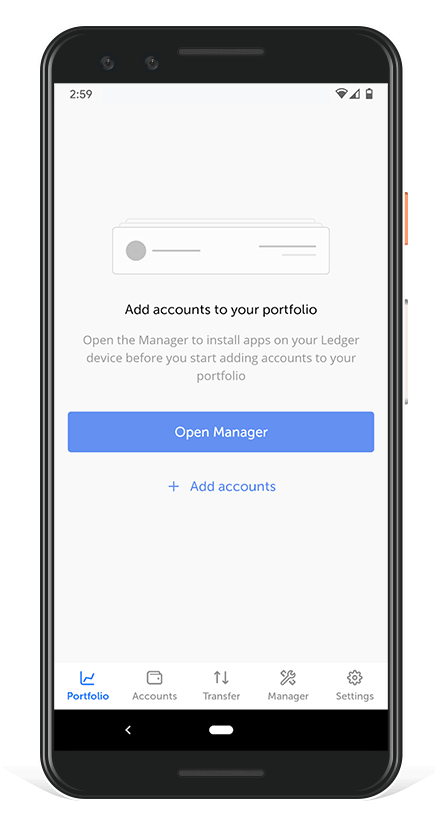 Select Add new Ledger Nano X to connect to your Ledger device.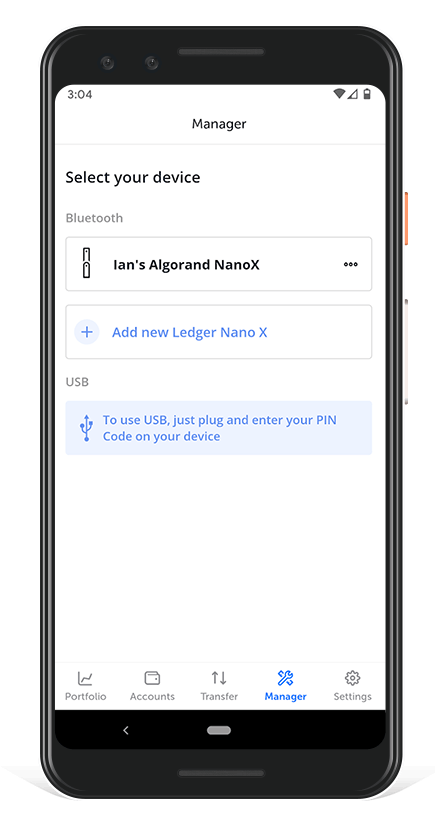 Follow the instructions on the screen to connect to the Ledger Nano X via bluetooth.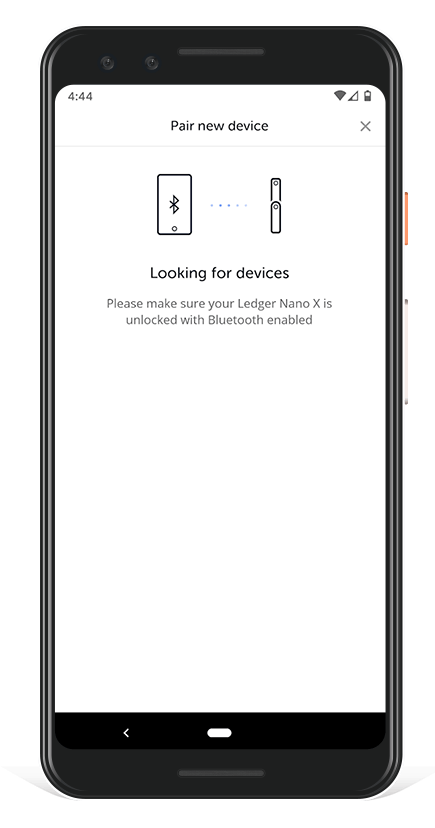 Once you've paired your device, you will see your Device Manager screen as well as the app catalog. In this screenshot, my device is named Ian's Algorand NanoX.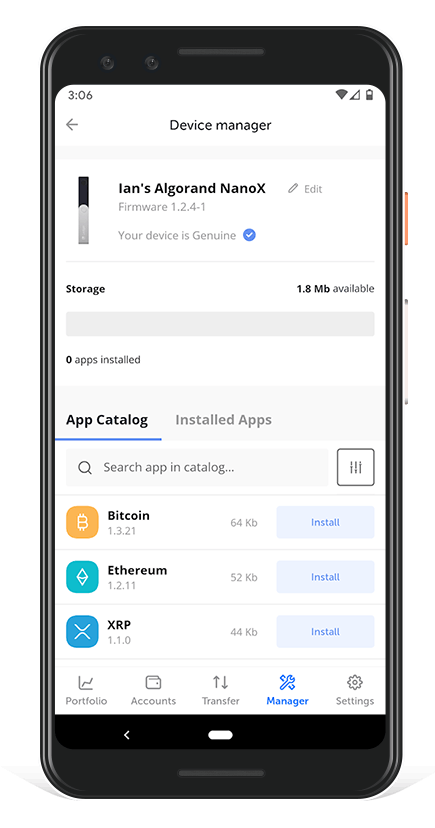 In the search bar, under App Catalog enter "Algorand." You should see the official Algorand App. Tap Install. After a few moments, the app will install on your device!
Note: If you've downloaded the Algorand app from Ledger Live previously, ensure that the version you're running is 1.0.7 or later. If not, just follow the steps of this tutorial to get the latest version from Ledger Live.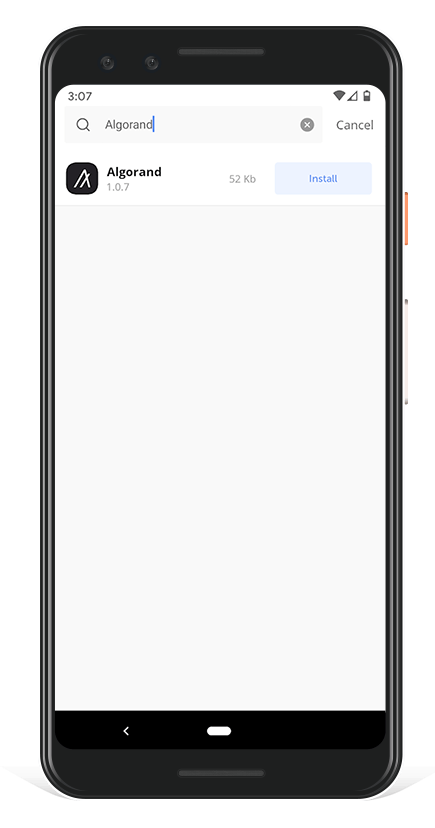 To verify that it installed correctly, please make sure you can see the Algorand app on the Nano X device. 
Note: You might need to scroll left/right depending on how many apps you have on your ledger device.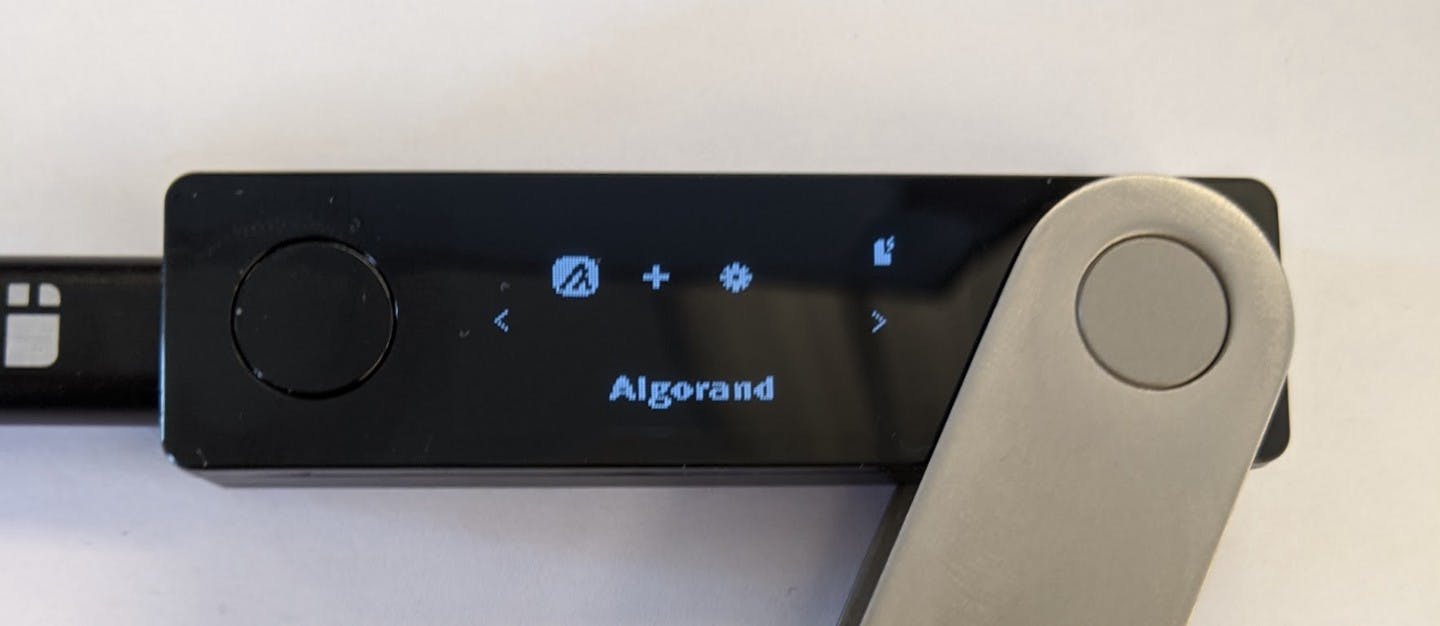 Pairing Ledger Nano X to Algorand Wallet
From the homepage of Algorand Wallet, tap Pair Ledger Account. If you're coming from the Accounts screen, tap the + icon at the top left of the screen.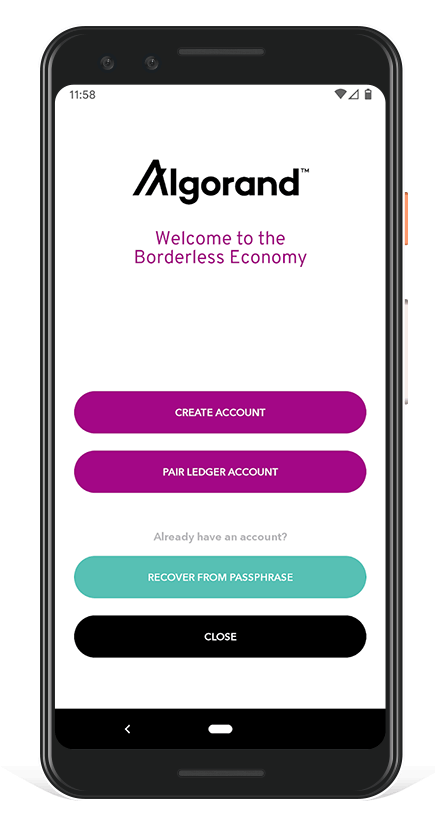 In order to continue with the pairing, please make sure bluetooth is enabled for the Algorand Wallet app.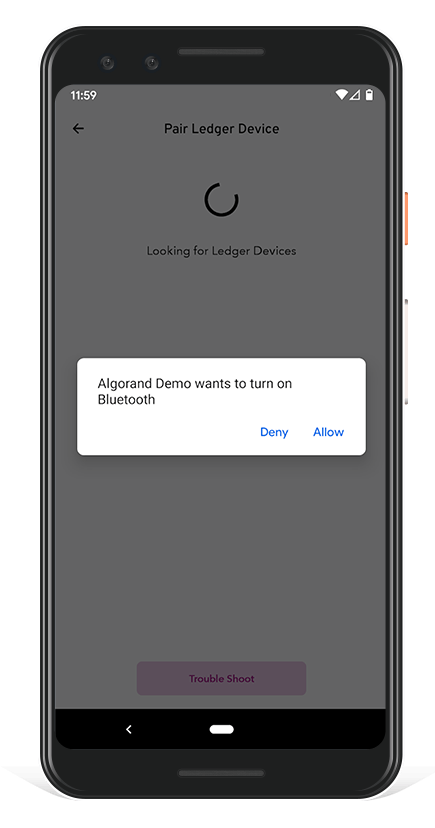 Your phone will begin searching for a Ledger device. Once you see your device, tap Connect. This will begin the pairing.
Once the pairing is complete, you will then name your ledger-backed account. You'll also see the public key for this account on your Ledger device. You can then tap Create Account to finish the setup.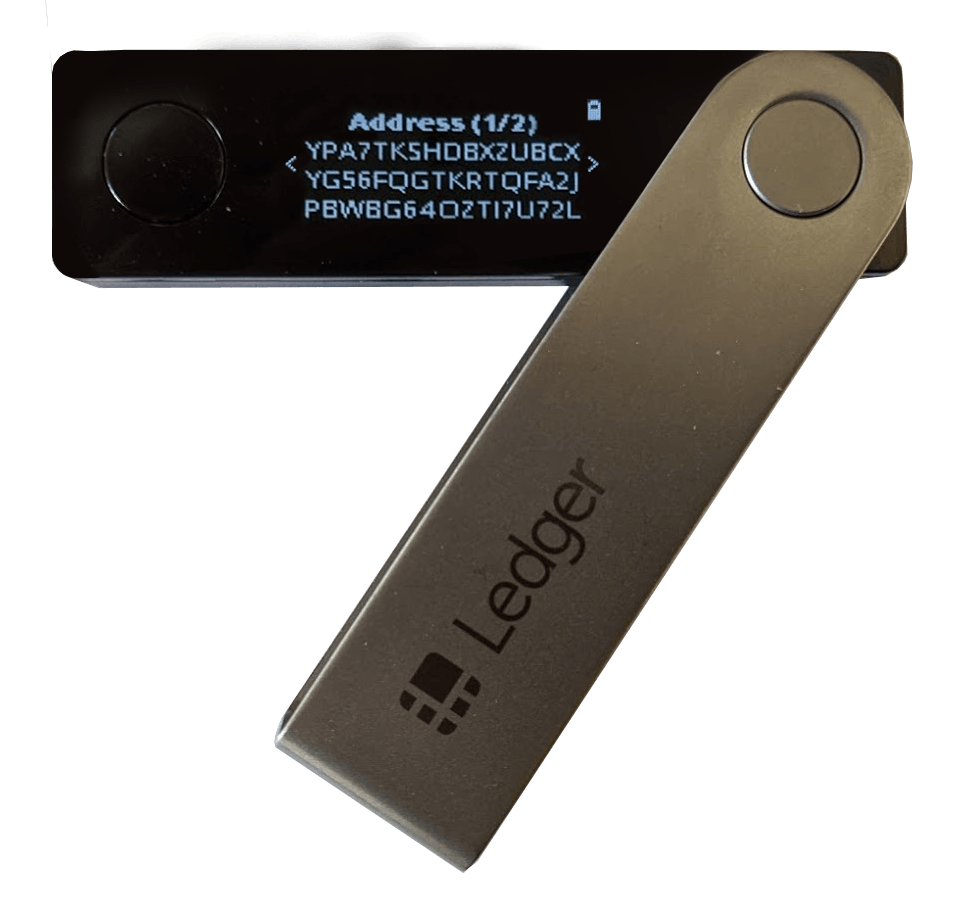 In this scenario, I named my account (in step 4) Ian's Ledger Nano X. You'll be able to see this on your Accounts page.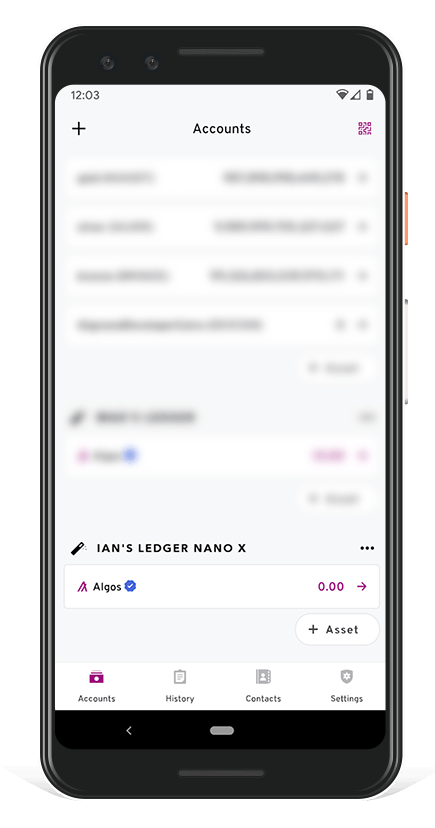 Signing transactions with your Ledger Nano X
First, navigate to an Algorand account that is backed by a Ledger device. From there, tap Send to initiate a transaction.
On the transaction page, enter transaction details as you would normally. When you're ready to send the transaction to your Ledger device to be signed, tap Preview.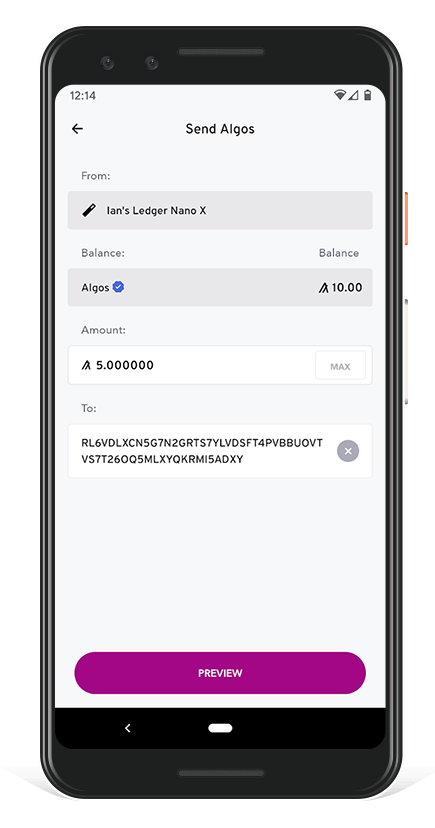 You'll now be able to verify that all fields within the transaction are correct. Once you've verified all of the fields (by navigating to the right), you'll be able to sign the transaction.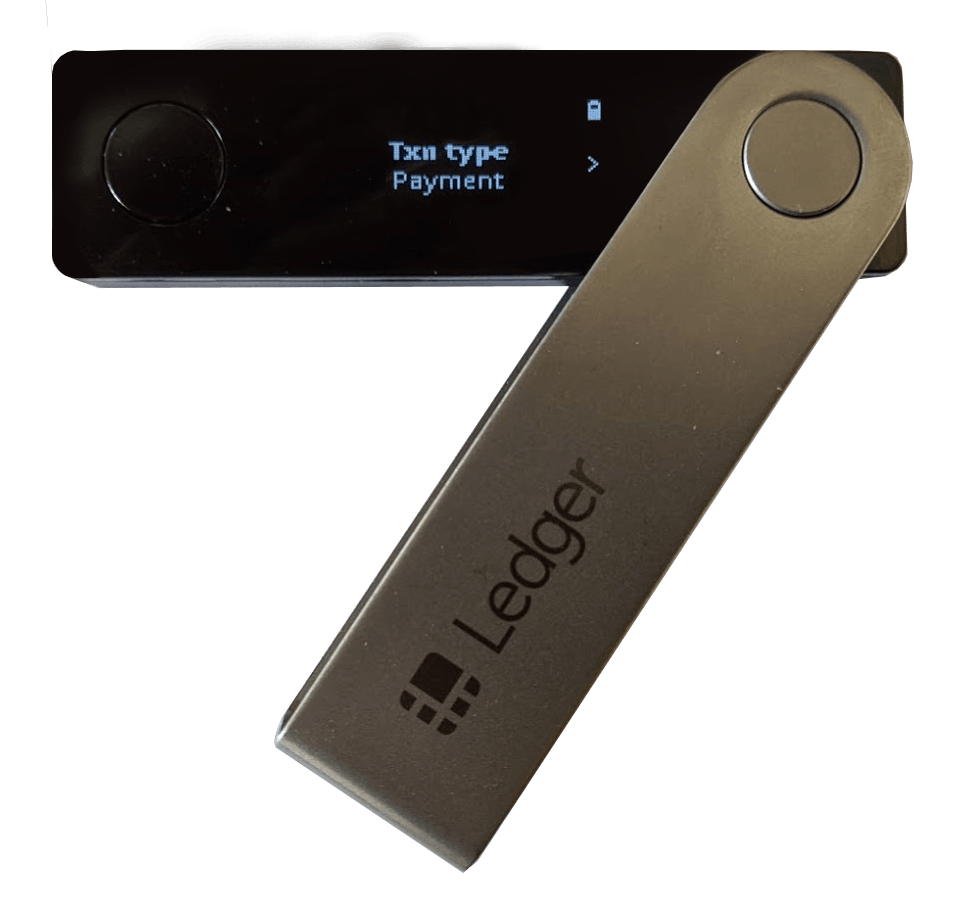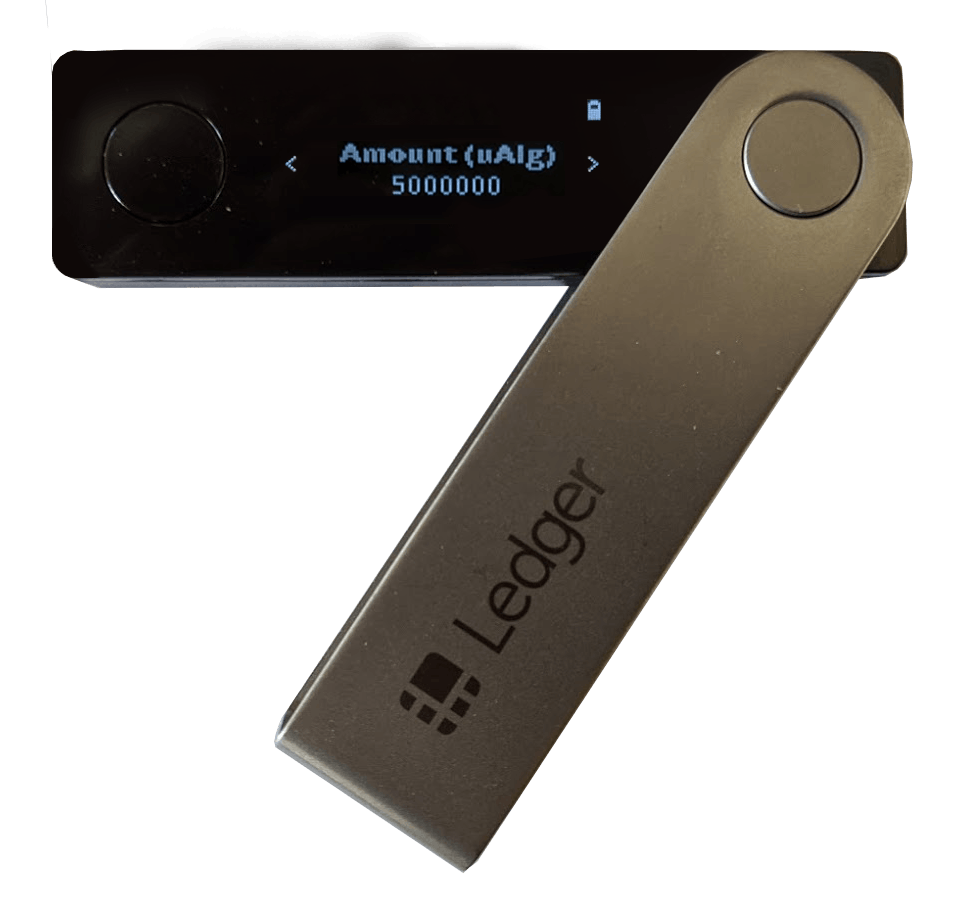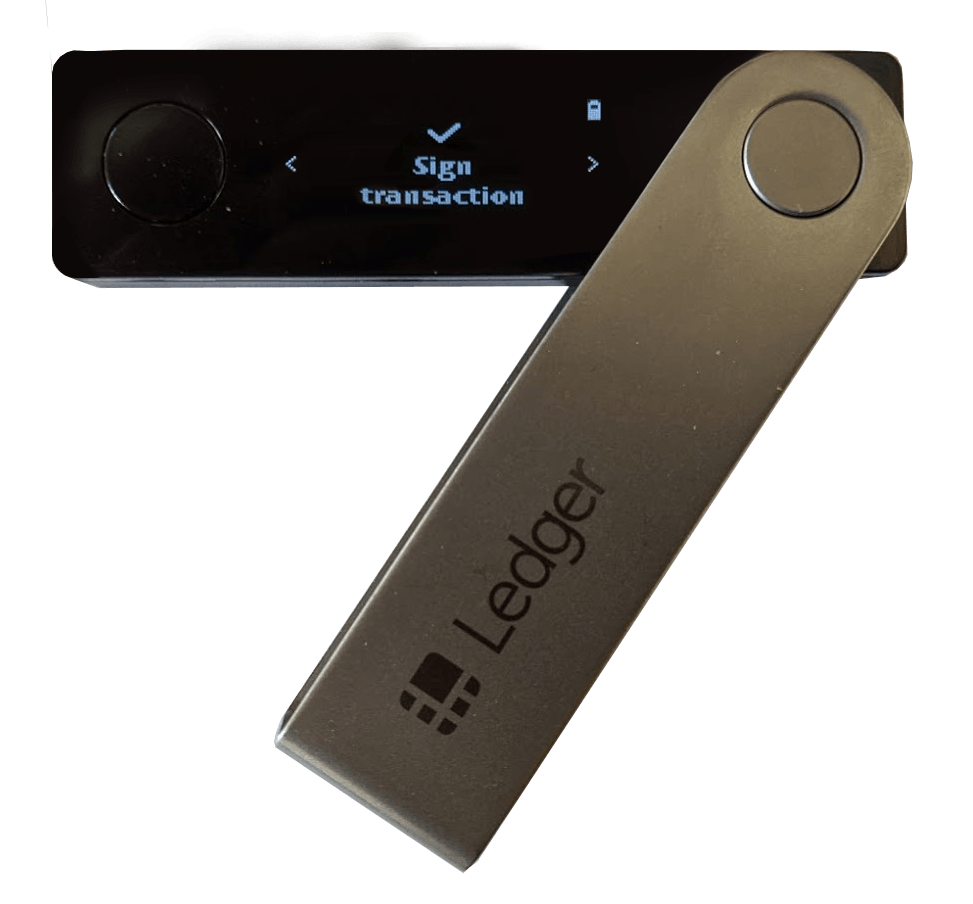 Once you sign the transaction with your Ledger device, you'll be able to finalize the transaction in the Algorand Wallet by hitting Send.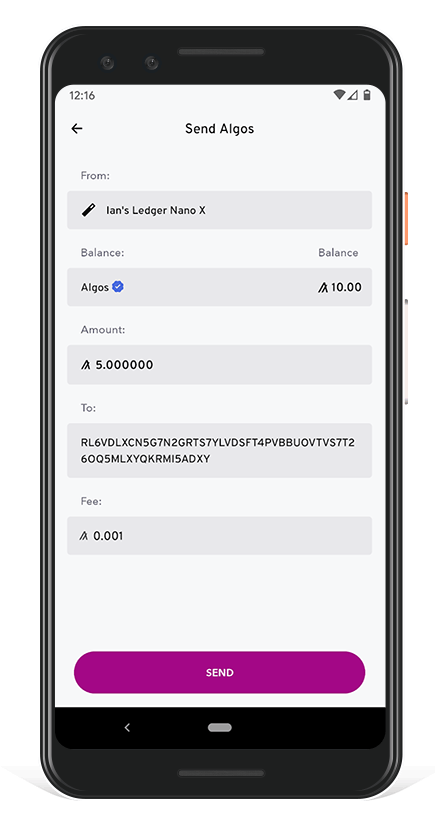 That's it! After hitting send, you'll be able to see the updates balance as well as a new row in your transaction history (as per normal).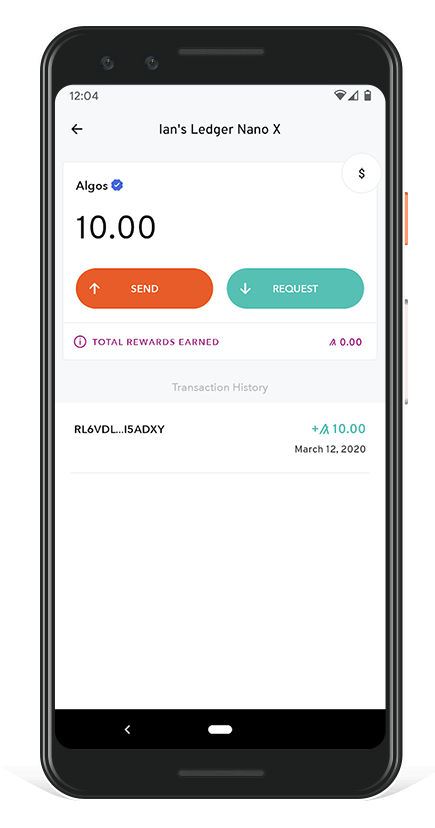 Support
For help with setup or to report bugs/feedback, please email [email protected]
The Algorand Wallet is an easy to use mobile app with a new design that includes key features, full integration of Algorand Standard Assets, and best-in-class security with Ledger Nano X integration. Be sure to read up on the new features of the Algorand Wallet: