Enabling Mobile-First Signing Infrastructure for dApps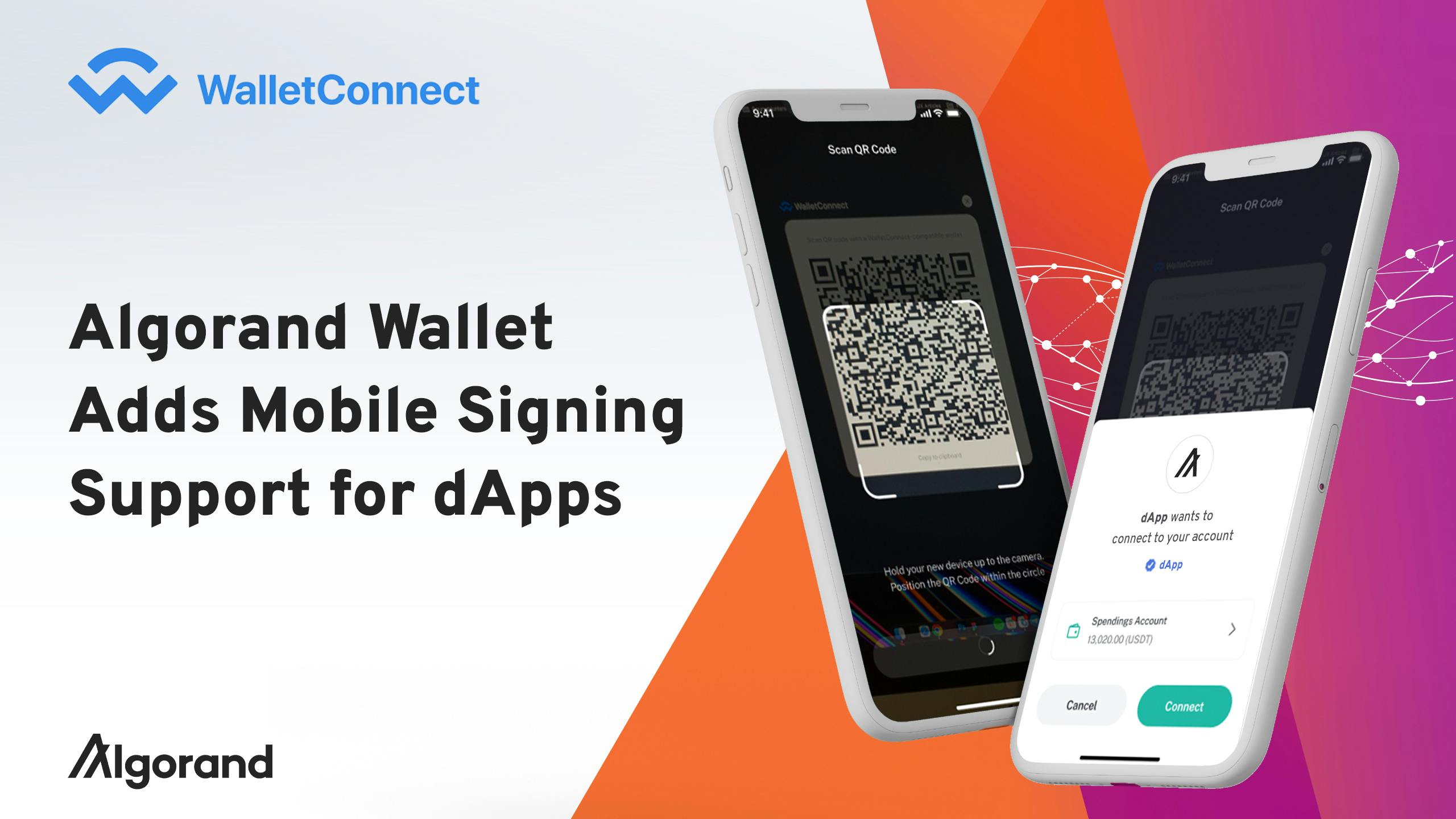 Current Ecosystem Challenges for Signing Transactions
Up until now, Algorand dApp developers have only had access to desktop signing options, which has made it difficult for dApp developers to reach existing Algorand Wallet users. 
Not only was this limiting for developers, but it was also cumbersome for Algorand Wallet users who wanted to use accounts that they managed from their mobile devices to interact with dApps. To sign a transaction, they had to download an additional desktop extension or application and then import their accounts with their private keys.
This lack of interoperability between Algorand Wallet and the Algorand ecosystem dApps has created friction for dApp and Algorand Wallet users to finalize their transactions quickly and securely. This has been especially problematic for dApp builders that sought to increase user adoption as they were unable to connect with the large (and growing) Algorand Wallet user base. 
Algorand realized that in order to have a larger and stronger network of dApps, Wallets, NFT Marketplaces, DeFi Applications, and more, this challenge needed to be solved, which became the driving force behind the latest Algorand Wallet release.
Bringing Mobile Transaction Signing to the Algorand Ecosystem
The latest Algorand Wallet release provides an integration with WalletConnect, an open-source protocol for connecting decentralized applications to mobile wallets with QR code scanning or deep linking. 
An Algorand Wallet user will now be able to interact securely with any compatible Algorand dApp from their mobile phone, and vice versa. Algorand dApp developers can now easily offer mobile transaction signing options to allow their users to seamlessly review and sign transactions from their mobile device, taking comfort in the fact that their private keys never leave their device. 
Using Algorand Wallet to Sign dApp Transactions
For a complete, step-by-step tutorial on how to sign dApp transactions with your Algorand Wallet, please see the Signing dApp Transactions with your Algorand Wallet tutorial. To briefly illustrate how simple this mobile transaction signing flow is, check out the graphic below:

Unlocking Your dApp's Full Potential with the Algorand Wallet
To reiterate some of the benefits that this new Algorand Wallet feature will bring to your dApp and ultimately to the greater Algorand ecosystem, the release provides:
Increased connectivity in the Algorand ecosystem where dApp developers will have immediate access to ~100,000 active Algorand Wallet users (and growing!).
More options for dApp's signing workflows, allowing users to confirm and sign transactions with their Algorand Wallet via QR (Desktop) or deeplinks (Mobile).
A wide variety of transaction-type support for use-cases such as payment transactions, asset transfers, asset opt-ins, application calls, and atomic transactions.
More intuitive and secure transaction flows - scan, review, and sign all from a mobile device while never exposing private keys. 
The possibility for future dApp integrations within the Algorand Wallet, linking directly to your connected dApps. 
Enabling Global Mobile Transaction Signing on your dApp
If you're a dApp developer who wants to enable mobile transaction signing, Algorand built out a full set of documentation and getting started guides. Access the Algorand Developer Portal for the latest tutorials and "how-to" guides for easy integration with the Algorand Wallet. If you already integrated with existing desktop signing methods (via Desktop app or browser extensions), you'll find that this additional signing workflow will easily fit within your dApp's UI.  If you have questions or just want to talk to developers, make sure to join us on Discord. 
This feature (and others like it) was largely a result of the tremendous amount of support and feedback from the Algorand community. We hope that this is a small step in getting us all closer to the overarching vision of a borderless economy. Keep the feedback coming and happy building!