This is an ongoing blog series by Algorand's Andrea Civelli on perspectives on Central Bank Digital Currency designs, proposed implementation models, and technology that is enabling governments to participate in the future of finance.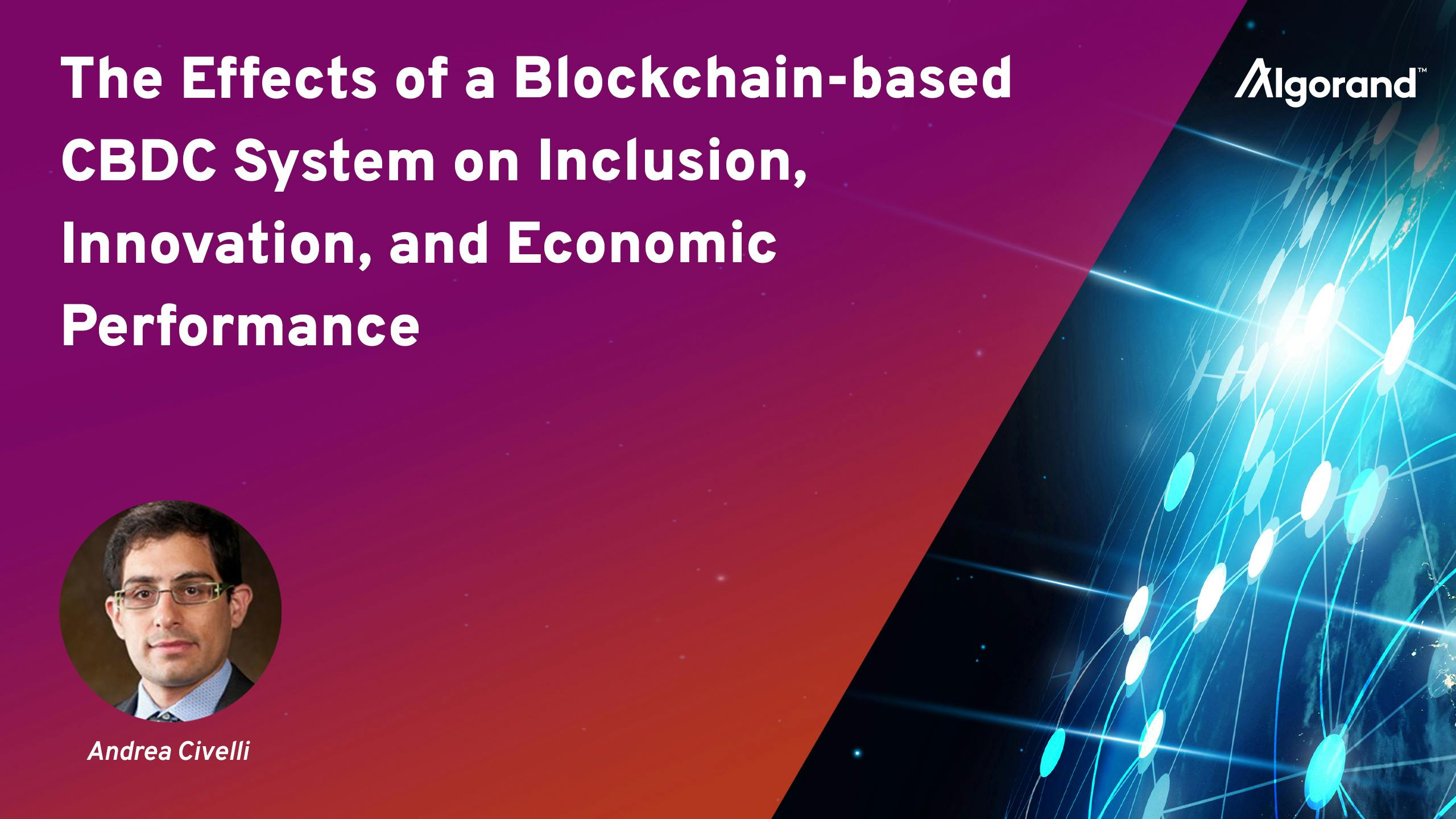 In this blog post we elaborate on one of the principles of designing a successful Central Bank Digital Currency (CBDC) introduced in our first post about CBDCs: the promotion of inclusion and innovation.
Innovation, Inclusion, and Economic Well-Being
Every other year the Federal Deposit Insurance Corporation (FDIC) publishes a report entitled "How America Banks" about the U.S. households' participation in the banking system. The last report was published in 2019, not long before the COVID-19 pandemic began. It might be surprising for some of us, but the last available data indicates that in the U.S. more than 7 million families are unbanked -- they don't have a bank account. And this number is expected to increase in 2021 due to the impact of the pandemic on households' socio-economic conditions.
Being unbanked is a serious problem. Access to payment and financial services, home, auto or college loans for example, without a bank account is very difficult, if not impossible. Unbanked people must rely only on basic and expensive payment instruments, such as cash or money orders instead of just being able to write a check. 
The lack of a bank account is the biggest obstacle to financial inclusion and financial literacy, which are necessary for the full economic inclusion of an individual as well (by the way, I am very glad to talk about this topic since April was the financial literacy month!). And the worst thing is that this kind of friction in the economic system not only reduces individual opportunities, but also dampens the overall economic potential of a nation.
The good news, though, is that the adoption of a few CBDC design solutions provided by advanced next-gen blockchain technology can help CBDCs promote inclusion, economic growth, and the wellbeing of a nation, for example by improving the conditions of unbanked people. 
Let's give a closer look at these CBDC design principles then: 
The CBDC system must spur innovation through openness: A CBDC solution based on an open-source distributed ledger strongly supports and facilitates the development of decentralized applications on the CBDC blockchain. The openness of blockchain technology is ideal for the creation of a bottom-up ecosystem, where innovation is fostered by the network itself and by the participants in the ecosystem. 
Innovative payment and financial services can be designed to directly work on the CBDC infrastructure, without necessarily relying on traditional intermediaries. For example, new, convenient payment services could be offered to end-users without a bank account by taking advantage of CBDC digital wallets. Similarly, innovative financial products leveraging decentralization and smart contracts would create new investment opportunities and expand the accessibility to financial services.
The CBDC system must promote competition to achieve cost reduction of financial services: An open system with no entry barriers will foster competition among the providers of financial and payment services. The main effect of competition is the reduction of the cost of services for end-users in the CBDC blockchain. Walled garden solution, on the contrary, cannot achieve the same result because providers would not find it convenient to maintain a barrier-free system further down the line.
A CBDC can also create a more level playing field between traditional financial institutions and big tech companies. Big tech companies have a massive information acquisition advantage over traditional financial institutions, and this advantage has been translated into new business models outside existing regulatory frameworks. A CBDC will enable financial institutions to innovate more rapidly, create cheaper services, and close this gap with big tech companies.
The CBDC must reach a broad base of consumers, including those in the informal economy: For a payment instrument to be universally accepted and trusted, it needs to be available to everyone. Achieving this goal means to find a solution for two related challenges as well: full accessibility to the CBDC system and universal digital identity. Without successfully tackling these two issues, a substantial fraction of the population will not only struggle to transact using CBDC, but even to gain access to it. This is particularly relevant for unbanked people in emerging markets, for example:
Full and uninterrupted accessibility to the CBDC, especially off-line accessibility, is a key feature of CBDC for Central Banks. Relying on digital wallets and mobile devices has the potential to strengthen accessibility. However, smartphone penetration is far from perfect (even in the United States it stands at about 80%) and, consequently, any retail CBDC design must make provisions for off-line use cases and operability without smartphones as well.
The availability of identity documents is not necessarily straightforward for some individuals, especially in emerging countries. Building a universal and readily accessible digital identity infrastructure is paramount for the success of the CBDC system. Some form of on-chain identity attestation is likely going to be a requirement for specific types of transactions in the CBDC blockchain, for instance to hold an asset as an accredited investor or to provide proof of AML compliance. 
Central banks issuing CBDC will have to seek broad stakeholder engagement to solve the digital identity challenge, especially if strong real world identity is required for certain operations. In this case, a Licensed Trust Provider would have to support the Central Bank to certify a Public key with additional identity information once end-users have passed KYC/AML processes.
Algorand Blockchain Can Ensure a CBDC System Promotes Innovation, Inclusion, and Economic Performance
Thanks to the unique capabilities of the Algorand blockchain, the CBDC model we propose can meet all the requirements necessary for a CBDC to promote innovation, inclusion, and growth allowing people, organizations, and governments to be successful in the future of finance and payments. 
Algorand is uniquely positioned to empower strong CBDC implementations:
OPENNESS: The hardest part of designing new financial infrastructure is developing the protocols and processes in a robust and resilient way that is compatible with legacy systems as well as with the requirements to create the future of finance. In the ecosystem view adopted by Algorand, this work is front-loaded, and has informed the fundamental design of our open-source blockchain technology. 
Unlike many enterprise blockchain providers who build a walled-garden which would lock Central Banks to a single solution provider, the Algorand system is designed to have open APIs that foster competition and prevent vendor lock-in. Algorand's open architecture creates an ecosystem where the protocol facilitates the seamless interaction of various ecosystem partners, from banks to e-money companies and payment providers.
INNOVATION & COST REDUCTION: A large ecosystem of developers, applications, and innovative ideas are already using the Algorand blockchain technology. They are using Algorand Standard Assets to model real-world and digital assets in the blockchain space, and leveraging Layer-1 Smart Contracts to give these assets capabilities that do not require third-party intermediaries with their associated fees. Extensive development support via online documentation and examples greatly facilitates onboarding of innovators and decreases time-to-market of their ideas. These solutions can be supported without any compromise to the Central Bank's authority over the CBDC itself.
To create a suitable environment for innovation, the network architecture consists of two networks, a pre-production betanet, which can be used by all institutions to program their products against a 'beta-CBDC' for end-to-end testing. After sufficient review and approval from the Central Bank, applications launched in betanet can be promoted and deployed to the main CBDC network. To date Algorand's implementation of the model described above has involved collaboration with both local consortium partners and global technology companies to deliver a solution tailored to each country's specific characteristics and needs. 
By employing Algorand's open-source design, all participants benefit from open competition while adhering to systematic protections. The openness of Algorand's blockchain will allow the participants of the CBDC ecosystem to foster innovation by creating new, cheaper financial products and services.
IDENTITY & ACCESSIBILITY: To enable access to the CBDC system, solving the digital identity infrastructure problem is fundamental to scaling economic and financial inclusion. One of Algorand's core design principles is to create generalized and flexible tools. For this reason, Algorand has worked with identity companies to create on-chain identity attestations that can be used with many emerging identity standards, such as W3C Decentralized Identifiers, and be easily portable across many different platforms.
Algorand also proposes solutions for offline transactions on the CBDC system. In our white paper, we discuss how to allow users with intermittent or no connectivity and without smartphones to be included on an entirely equal footing to users with good connectivity and smartphones, highlighting Algorand's focus on radical inclusivity for CBDCs.
Conclusion
The Algorand CBDC model has been designed by a multidisciplinary team that includes cryptographers, economists, technology and policy experts, which embodies Algorand's commitment to finding the most innovative and effective solutions for a frictionless economy.
As our experience here at Algorand has grown with national digital currencies projects (Algorand, for example, is the infrastructure behind the SOV - the Marshall Islands' new digital currency), we have developed the original and thorough model of CBDC which we have discussed in a series of recent posts. If you are interested in learning more about the Algorand CBDC model, please download the full "Issuing CBDC using Algorand" report below.
If you are interested in learning more about the Algorand CBDC model, download the full "Issuing CBDC using Algorand" report below.