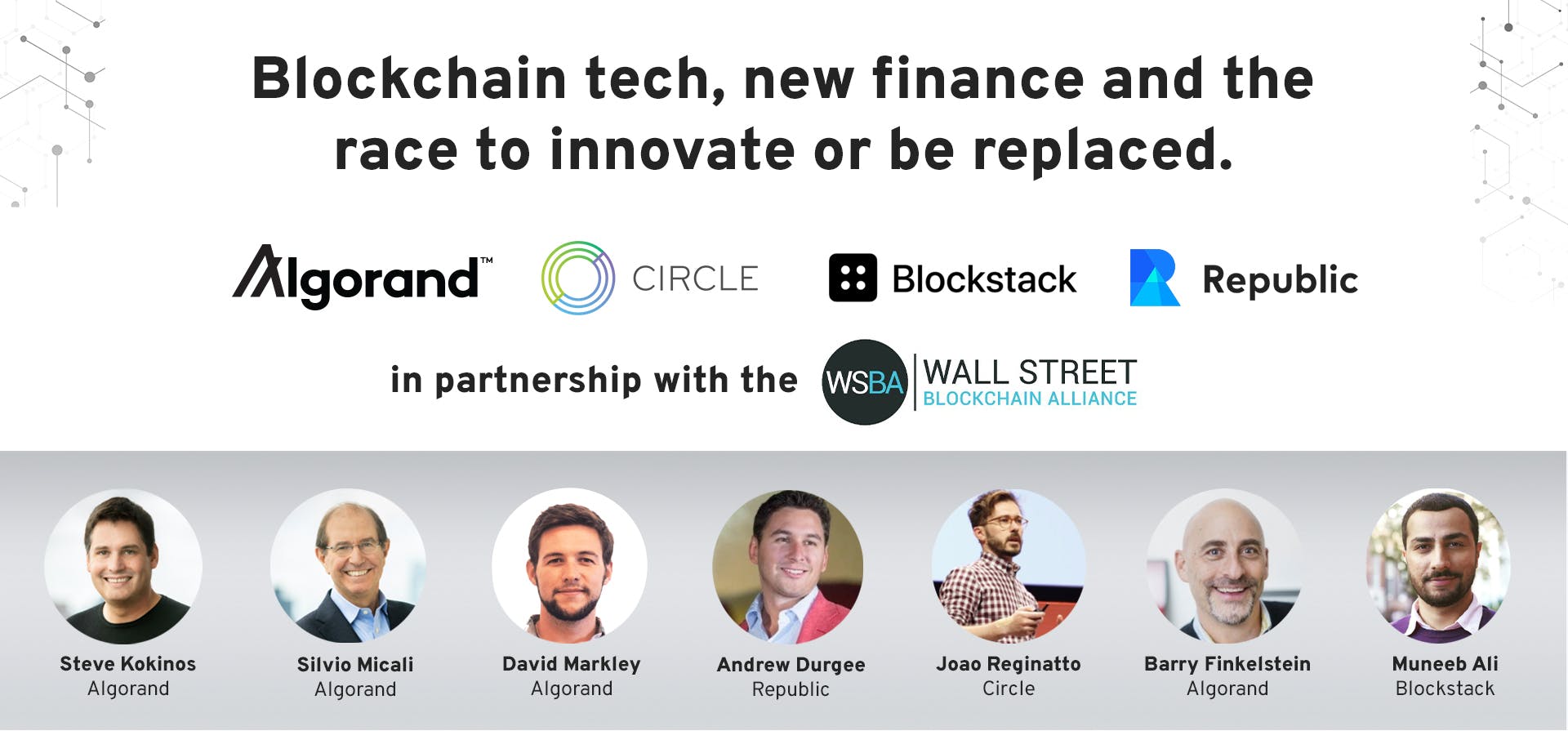 Recently, I had the good fortune and privilege of moderating an outstanding webinar with some of the top minds in the DLT and blockchain space. Over the course of 1 hour, I was joined by the likes of Andrew Durgee, Head of Crypto and Tokenization at Republic.io, Joao Reginato, Head of Product at Circle, Muneeb Ali, Founder and CEO of Blockstack, along with Algorands own Silvio Micali, Steve Kokinos and David Markley. 
The esteemed panelists brought to the surface the current state of Blockchain technology, how we got here and perhaps most importantly where they felt we're heading.
Systematic technological shift in financial applications
In today's rapidly changing world, we're witnessing a systemic shift in the ways entities look to fundraise, trade, attract loans and generally access credit, all in an effort to bypass today's slow, expensive and inefficient systems. Additionally, the growing increase in cross-border payments and the need to provide banking to the unbanked has furthered the demand to harness scalable and secure technology.
Furthermore, consumer expectations are evolving exponentially - putting pressure on institutions, financial and beyond, to rethink their existing structure AND innovate or be left behind! 
Exploring the importance of interoperability
Given the heavy focus from the blockchain community on the "term of the moment," interoperability, Silvio's presentation, along with a detailed round-table with Steve and Muneeb, allowed for a deep dive into interoperability. More specifically, Silvio presented a concise overview of Algorand Co-Chain technology and Interoperability's role in enhancing the capability of Blockchain and DLT usage. 
Steve and Muneeb followed with a discussion on how and why two leading blockchain projects, Algorand and Blockstack, came together to collaborate on the design and development of an alternative smart contract language, Clarity, that is purpose-built for the needs of developers and consumers. A major step toward interoperability, both projects will work to provide ways to execute smart contracts across several platforms.
New opportunities lead by blockchain and DLT
The doors have opened for Blockchain and DLT.
Protocols and new technologies have burst through with rapid developments in an attempt to meet these needs, providing solutions that remove the middlemen, lower costs, expedite transactions and make existing protocols like SWIFT potentially vestigial. An interesting statistic to consider, according to a recent Loughborough University study "moving securities on blockchain could save $17B to $24B per year in global trade processing costs". Regardless  of your enterprise's focus or size thats a significant # to ponder. 
Properly designed Blockchain protocols can allow for efficient and economical value transfer, for both lenders (individual and institutional), borrowers and merchants alike, along with numerous additional non-financial applications.
Why blockchain? Why Algorand?
Algorand has built a technology specifically to eliminate the friction in finance, and more generally create a frictionless exchange of value with an agnostic view towards asset type.
Algorand's technology is designed to help bridge the gap for the traditional financial world through the adoption of new innovations. With Algorand's Layer-1 Standard Assets , Smart Contracts and complete Atomic Swaps, not surprisingly - the result has been a proliferation of use-cases quickly migrating to the Algorand blockchain protocol due to its functionality and ease of execution.
These advancements, the development of Co-Chain interoperability for permissioned and permissionless protocols, along with the unfortunate occurrence of Covid-19, have accelerated the use and discussion of blockchain and digital asset technologies. 
The blockchain narrative
The narrative around blockchain has shifted from "what is it" to "how can we use it"? 
The world as we know it is drastically changing for consumers and financial institutions must keep up and evolve to accommodate these changes. 
That's where we see Algorand's blockchain technology converging into existing systems to help ease that transition by providing a manageable  technology as the "Race to Innovate or be Replaced" gets tougher.
As put forth by PayPals Sri Shivanda, "The digitization of currency is only a matter of when, not if"
--------------------------------------------------------------------------------------------------
Watch the full recording to learn more about:
Where we are on the blockchain adoption curve & where we're going
The need for both public and private infrastructures
Interoperability and technology for a maturing industry
And more!