High-profile artist Ed Smith has recently tokenized a series of his famous works, which are available to be purchased as non-fungible tokens (NFTs) via Dahai - a tokenized fine art marketplace operating on Algorand.
Smith's artworks are tokenized on Algorand using asset-backed NFTs that offer token holders exclusive rights to his physical works. 
What Are Asset-Backed NFTs?
NFTs have surged in popularity in the first half of 2021, with trading volumes of digital NFT art culminating in March with over $200 million in monthly sales. NFTs are an excellent technology to prove the ownership and authenticity of digital art. However, they can also be used to tokenize physical art.
In a nutshell, asset-backed NFTs are blockchain-based tokens offering virtual ownership of a physical good or asset. 
These tokens are backed by a real-world asset and provide proof of ownership to holders. 
The tokenization of physical assets, such as art or collectibles, can be done with asset-backed NFTs, which are supported by Algorand. The holder of an asset-backed NFT can typically redeem it for the physical asset at any time.
Who Is Ed Smith and Why Did He Pick Algorand?
Ed Smith is a US-based painter and sculptor born in Naples, Italy, in 1959. He moved to Cape Cod, Massachusetts at a young age. He received a BFA in painting from the University of Massachusetts and his MFA from Brooklyn College at the City University of New York.
Smith taught painting and drawing at Queens College in New York for twelve years, after which he moved to Louisiana, where he began painting nature and other motifs inspired by South Louisiana's mix of wildlife and industry. Ed's work reflects the relationship between nature and man as well as the mythic aspects of the Artist and man. 
He is a member of the National Academy of Design, a Guggenheim Fellow in Sculpture and Drawing, and a former Associate Member of the Royal British Society of Sculptors.
Smith's paintings and sculptures can be found in public and private collections in the US and beyond, including at The British Museum, The Royal Museum of Fine Arts in Antwerp, Belgium, the National Academy Museum, and more. His exhibitions reached the Queens Museum, Brooklyn Museum, The Royal Scottish Academy, Hillwood Art Museum, Fleming Museum, and many more.
Smith is currently Director of Marist Venice Biennale Program and Professor of Art at Marist College.
On Dahai, Smith has a collection of eleven sculptures called Figures in Silver and a collection of ten paintings called Figure Studies in Blue.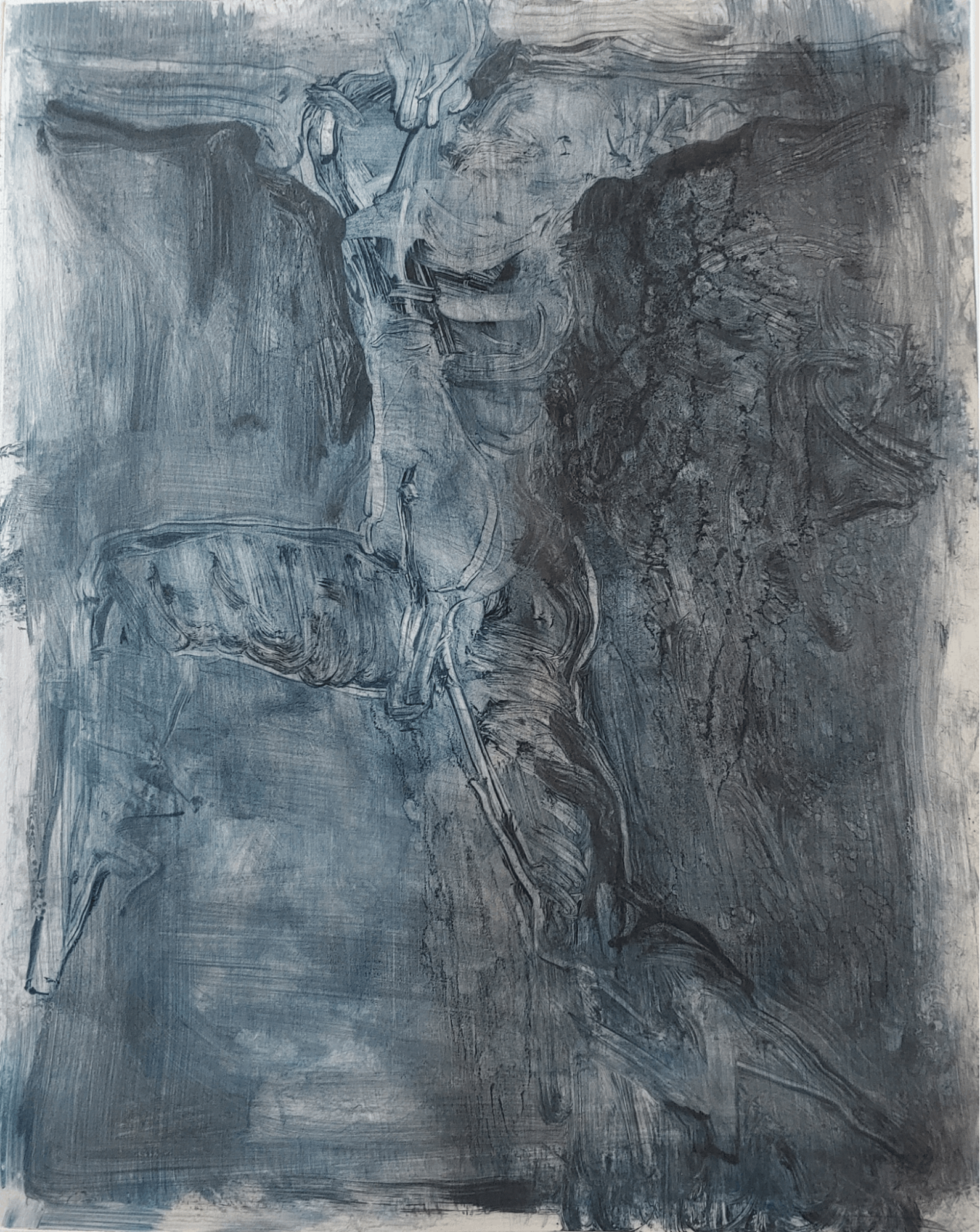 Study for British Blue Torso https://www.dahai.uk/lot/302#ART
The paintings have been created exclusively for Dahai.
Ed Smith chose to tokenize his artworks using Algorand because of the unique features the PPoS-based blockchain provides, including a high degree of security, low transaction costs, and great user experience, which is very important for attracting the audience and engaging with art fans.
What Is Dahai?
Dahai is a tokenized fine art market built on Algorand. Unlike many popular NFT marketplaces that focus on crypto art, Dahai is focused on physical art pieces backed by NFTs. The idea is to help artists tokenize existing physical artworks and reach a global audience in a secure environment, thanks to Algorand.
Dahai is the first NFT marketplace built on Algorand. It has sold the top three most valuable NFTs on Algorand so far, with the highest one reaching $50,000. Dahai's first series of asset-backed NFTs was sold out within one day of the launch, reflecting the rapid success of the project and the popularity of NFTs on Algorand.
It's worth mentioning that Dahai is a decentralized marketplace on which users buy and sell NFTs without a centralized authority. Thus, Dahai is not responsible for the custody of the NFT or payments.
Users have to connect their ALGO wallets and pick what they like in Dahai's portfolios of exclusive artworks to make a purchase.
Algorand is the Ideal Chain to Issue NFTs
Minting NFTs on Algorand is easy, fast, secure, cheap, and environmentally friendly, opening up the NFT creator economy up to everyone. 
The PPoS consensus algorithm ensures that Algorand remains an unforkable blockchain with no single point of failure, which is important to prevent the fraudulent or unnecessary replication of NFTs. Also, Algorand's almost-instant transaction finality allows marketplaces like Dahai to process transactions in seconds.
Algorand supports creators by providing the best technology to monetize their work while enabling collectors and fans to get closer to their favorite artists. Creators can leverage Algorand's NFTs with a wide range of functionalities by benefiting from fractional NFTs, built-in royalties, asset-backed NFTs, and more.
For the first time ever, creators are now empowered to promote and sell their artworks and creations directly to their fans while earning money from their sales directly. 
With Algorand, the future of NFTs is here.