"So, what you see is that almost any artist over the last 30 or 40 years who was in the traditional model before Spotify hasn't got any money coming in because the artist had to sell everything really early just to get that initial bit of finance in."
His new venture, Opulous, wants to be in a position where they can front advance money as a loan to these artists.
Parsons pointed out that, despite blog posts proclaiming the death of the music industry due to streaming, the industry actually generates huge amounts of money. While major labels earn large sums from Spotify, he said, even bedroom artists can earn a fair amount of money from the service. 
With independent artists outside of the major labels now comprising maybe 60% of the whole market, Lee said, around 60% of all payments coming out of Spotify are going directly to artists who own their own copyrights. 
"That is the market that we are tapping into with Opulous. Instead of going to a record label and getting an advance, now you can get a small advance based on your royalties coming in and Opulous will facilitate that for you painlessly."
DeFi and Opulous
Parsons said that in thinking about the DeFi movement and how it could apply to Opulous, the initial idea involved people just borrowing or lending to each other without a bank. 
After looking at the two types of Ditto users, he got the idea to expand the service by offering members loans from a pool made up of royalties held at Ditto.
"When I looked at the two types of Ditto users, just for the sake of this example, you have the one person on the one side who is making $10,000 a month, and a lot of these artists don't take their money out of Ditto, and we don't make any interest on that."
Parsons cited tax reasons, saving up for a video, a band having multiple members and splitting the money out every few months, or artists who prefer quarterly payouts as some reasons for keeping money in the app.  
Given this huge pool of money, he said, the idea arose to put a pool in the middle so that artists who choose to can put their money into the pool and earn interest on it – a much higher interest than they would earn at the bank. 
"Now we have the pool of money in the middle, we said, why don't we go to the other side of artists that want to get money for future recordings based on their catalog and they can then borrow from that pool. That was the original idea of having a pool in the middle of borrowing and lending directly between each other operated by Opulous."
As they moved more into the crypto space, they started talking to companies who also wanted to start investing in the pool and put more assets into the pool to get the stablecoin interest Opulous pays out.
"To partake in the loans right now, it's open to any artist and, as you've seen, we've paid out over a billion dollars. So there's a lot of money in there that will be taken up for loans instantly. On the other side, we're allowing crypto funds, and anyone can come and invest in the pool. Any investor can stake their money in the pool as they would on a Curv finance or Yearn finance."
A Game-Changer for Musicians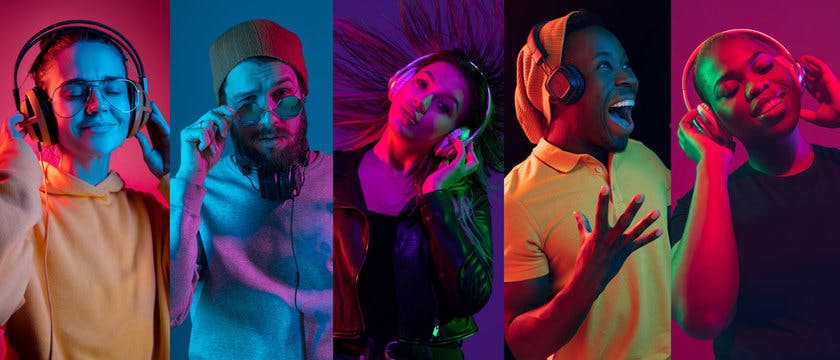 When asked how the Opulous service is game-changing for musicians, Parsons said that because music copyrights are suddenly becoming the go-to asset, a number of companies are investing in the copyright space. 
"The thing about music copyrights is not only do they go up in value, but you earn on them every year. The yield is similar to having a house now because you're probably earning 10% profit plus the value of the copyright. So everyone is swooping in trying to buy copyrights at the moment."
"The problem is when you go to a bank as a musician, well, maybe Ed Sheeran could – to be honest, I'm sure he would have no problem – but as someone at a mid-level range, who is earning 100k a year from their music, with copyrights that are really valuable, the bank probably still wouldn't see them as an asset."
Opulous, however, does see such copyrights, based on an artist's future earnings, as an asset.
"So, for an artist to be able to get the money upfront, it means they don't then have to sign a bad record deal. It means they can keep ownership of their copyrights for life and for the next ten years, they're going to make a lot more money than they would under a major label."
Building for the Long-Term with Algorand
Parsons said that Opulous has aligned with amazing people on both the investment front and the partnership side. After building Ditto without any investment over twelve years, he wants to build a long-term product that people are going to use. Additionally, if and when the market corrects, he said, people will need someplace to put their stablecoins if they cash out. 
"So, we're building it and future-proofing it for the next five years to make sure this is an amazing financial product. And that's one of the beauties of using Algorand."
In addition to the community side, the regulation side, and the economic side being important, Lee also emphasized the people behind Algorand as a factor in selecting the chain.
"I've known David Garcia, CEO and Founding Managing Partner at Borderless Capital, for several years. We've met several times. Some of the guys who helped him put this together were seed investors in Algorand. He was always very focused on long-term projects – getting it right regulation-wise, which is a huge thing because anyone can launch a token now. But when you go to get to bigger exchanges, they want to make sure it's all good, regulatory-wise, because they don't want to get in trouble down the line."
"Algorand has never had any problems regulatory-wise. It has never gone down. And it's a stable blockchain that I believe is going to be here over the next 10 to 20 years. So that's the biggest factor for me when I'm choosing a partner because I'm very careful who I partner with. And I've been very vocal about how much I like Algorand as we launch, because you're going to make or break with your partners as well," Parsons concluded.