Gold remains one of the most important assets, especially with what the COVID-19 pandemic has highlighted, a need for reliable safe havens. Institutional and retail investors may allocate part of their portfolios to the precious metal, as it represents a good store of value.
Meld uses Algorand to tokenize silver as well. The white metal has been among the best-performing commodities since the start of the pandemic.
Meld's gold and silver tokens reside on Algorand and are traded under the tickers MCAU and MCAG, respectively.
Learn more about how Meld is tokenizing gold using Algorand.
IBMR Uses Algorand to Create the World's First Micro Equity Exchange
Technological advancements, including the internet and mobile devices, have encouraged stock trading among retail traders worldwide. However, some stocks, such as Google or Amazon, are still too expensive for retail investors, who have to spend thousands of US dollars for a single share. Moreover, they are only accessible to investors that can purchase stocks on US exchanges. 
During the last few months, stock trading platforms like Robinhood and Fidelity introduced fractional shares, which enable users to buy smaller pieces of a single stock.
The International Blockchain Monetary Reserve (IBMR) went even further with this idea and developed an entire exchange platform that supports fractions of shares. The great thing about it is that users can trade the digital tokens representing fractional shares that reside on Algorand, thus leveraging blockchain's security, transparency, and speed.
IBMR's Microequity Stock Exchange (MESE) is the world's first microequity exchange that enables retail users to get exposure to the global tech equity market by purchasing fractions of shares on blockchain. 
MESE's microequities are ASA tokens representing 1/10,000th of a stock. Users can invest in Amazon, Apple, Tesla, Microsoft, Google, Twitter, and Netflix, with more tech stocks to be added soon.
Note that MESE's Algorand-based tokens are not derivatives like contracts for difference (CFDs) but digital units 100% backed by actual stocks.
MESE takes stock trading to a whole new level, as the platform is available all over the world and is live 24/7. More importantly, there are no entry fees and users can get exposure to tech giants with only a few cents.
Learn more about how MESE.io brings stock trading to the unbanked.
Blockchain Firm Realio and Valentus Tokenize $250M Fund
At the end of 2020, Valentus Capital Management, a private equity firm registered with the US Securities and Exchange Commission (SEC), partnered with blockchain firm Realio to tokenize a $250 million investment fund on Algorand.
The tokenized fund, called Credit Opportunities Fund I, is run by a newly created entity known as Valentus Digital and focuses on credit assets, such as Residential-Backed Mortgage Securities (RMBS), Corporate Loan Obligations (CLO) and Asset Backed Securities (ABS).
Realio and Valentus have issued 250 million VAL 1 tokens, which represent the economic rights to shares in the fund. VAL 1 tokens are built as ASAs and thus benefit from the security, decentralization, and scalability of Algorand.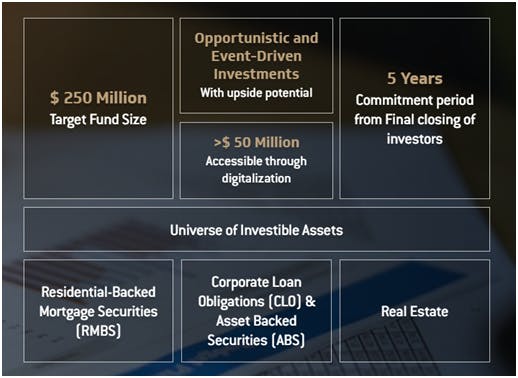 Valentus was able to reduce the entry barrier for an investment from more than $2 million to only $10,000. Thus, investors who pass through a compliance check have the opportunity to get exposure to credit assets and invest alongside top-notch institutional investors.
___
These are only a few examples of how Algorand can be used to tokenize real-world assets. While there are certain regulatory barriers that have to be gradually addressed, tokenization is poised to transform traditional financial markets, and Algorand is leading the tokenization trend.
Further Reading: